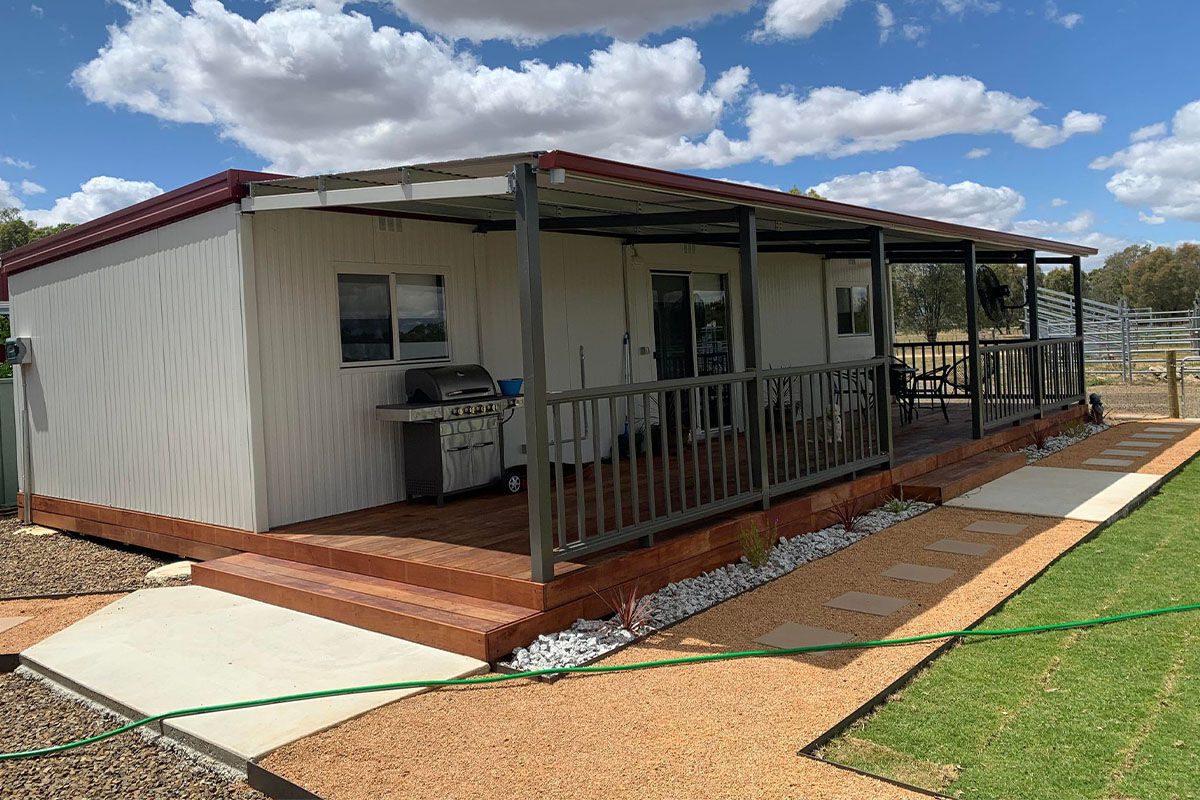 The Ultimate Guide to Choosing a Unit for Your Rural Lifestyle
In the picturesque landscapes of rural living, finding the perfect accommodation that offers flexibility, functionality, and portability is a challenge. That's where a Ryebucks Portable comes in; offering top-quality portable units tailor-made for rural environments. This guide will take you through the incredible benefits of Ryebucks Portables' units, highlighting the colorbond external finish and steel chassis that ensure durability and aesthetics. We will delve into their vermin-proof and fully insulated features, guaranteeing comfort in all seasons. Furthermore, we'll provide invaluable tips to help you pick the ideal unit size and layout, ensuring it perfectly complements your unique family requirements.
---
The Benefits of Ryebucks Portables for Rural Environments
Ryebucks Portables' units have earned a reputation for excellence in rural settings, and it's no wonder why. Let's explore the key benefits that make these portable units stand out from the rest.
1. Durable Colorbond External Finish
The Australian colorbond external finish offered by Ryebucks Portables is not just aesthetically pleasing but also highly durable. It would be hard to find a single rural property that didn't have Colorbond steel keeping the weather from the home or machinery shed. Whether it's a scorching sun, heavy rain, or chilling winters, the colorbond finish ensures your portable unit remains resilient and visually appealing for many years to come.
2. Sturdy Steel Chassis
The foundation of any portable unit is crucial, and Ryebucks Portables understands this well. Their units boast a robust steel chassis that provides unparalleled strength and stability. This structural integrity ensures that the portable unit can withstand the challenges of rural terrains, including uneven surfaces and rough handling during transportation. All of our units can be craned into position by simply using straps with an overhead spreader bar. With a Ryebucks Portable you can have peace of mind knowing that your unit is built to last.
3. Vermin-Proof Design
Rural environments periodically come with the challenge of dealing with damaging rodents and insects. Anyone who has endured a mouse plague will attest to that! Having had to deal with several such plagues ourselves we understand this and have taken this into account and crafted our units with a vermin-proof design. From the flooring to the walls and roof, every aspect is engineered to keep unwanted guests out, ensuring a hassle free, clean, and safe living space.
4. Fully Insulated for Year-Round Comfort
Extreme temperature variations are part of a rural environment. Ryebucks Portables understands the importance of a comfortable living space, regardless of the weather outside. Our units come fully insulated, providing excellent temperature control. So, whether it's a scorching summer day or a freezing winter night, you can take a comfortable respite from the elements inside your portable unit.
---
Tips for Selecting the Right Unit Size and Layout
Choosing the perfect portable size and configuration is a significant decision that depends on your specific needs. Here are some essential tips to guide you through the selection process.
1. Assess Your Site
Begin by evaluating your site. What room do you have allowing for truck access? The truck needs to get out again with the unit now in place. What is the topography? Do you need to cut and fill a site or use elevated foundations? Where are the services? Water/Electrical? Where are the wastes going to go? With these in mind Ryebucks will provide a floor plan that specifically reflects the constraints of your site, this keeps site costs to a minimum.
2. Optimize Space
Keeping passage ways to a minimum will allow for more useable space. Its best to keep your walk areas short and direct which will mean more room for furniture and fixtures and negate the need to walk around obstacles to access bedrooms/bathrooms etc. A simple example is to make sure the sliding door entrance is aligned with a common walk-space. Also keeping bedrooms compact will allow for larger living areas creating a sense of openness within the portable unit. For example; kid's rooms can be kept very compact with bunkbeds, fold down beds may also be an option.
3. Modular Design
Our portables can be supplied Modular. Flexible, comfortable, and affordable. We can supply two (or more) portables that join to form huge living areas or as many bedrooms as needed. Large joined to medium, large to large the choice is yours. Flexible; if circumstances change you can too! Upsize or downsize by simply changing out (or removing) one of the pods. Multiuse; for example, one module for multiple bedrooms while kitchen and living in another. The options are limitless.
4. Power Water and Wastes.
Portability is a key function. Most of our units are specified with a caravan style (extension cord) electrical connection. If larger power demands are going to prevail the unit will need to be hard wired by an electrician. We offer an off-grid package as an alternative.
Fresh water connection is by garden hose. It couldn't be simpler.
Disposal of wastes will depend entirely on your site. If no sewerage is available you may need to consider the installation of a septic system or an approved emptiable tank. We also offer a cassette toilet and can install a composting toilet of your choice.
Talk to us about your needs.
5. Customize to Reflect Your Style and Your Needs
Ryebucks Portables manufacture to each customer's needs. This gives you the ability to have a floorplan that exactly suits your specific requirements. This extends to such important details as the size and configuration of both the bathroom and the kitchen. For example; a larger glass fronted showers, more expansive kitchens, or a full-sized laundry. Reflect your personal style by choosing from our extensive options list for example different bench tops, external colours or perhaps an enclosed "Overnighter" timber entrance
---
In conclusion, Ryebucks Portables offers the ultimate in flexible solutions for your rural lifestyle needs. With their colorbond external finish and sturdy steel chassis, these units are built to withstand the challenges of rural environments while remaining comfortable and practical. The vermin-proof and fully insulated design ensures comfort in all seasons, making them the perfect choice for year-round living. By following our expert tips on selecting the right size and layout, you can create a functional and personalized living space that perfectly complements your family's requirements. Experience the convenience, comfort, and style of Ryebucks Portables' units and embrace the joys of rural living.
---
FAQs
1. Are Ryebucks Portables' units suitable for all climates?
Absolutely! Ryebucks Portables' units are fully insulated, providing comfort in all seasons. Whether you're facing scorching heat or freezing winters, these units will keep you cozy and comfortable.
2. Can I get a portable unit with multiple bedrooms?
Yes, Ryebucks Portables offers units with various floor plans, including those with multiple bedrooms. If more space is needed a modular portable may be the answer. You can choose the layout that best suits your family's needs.
3. How is the portable moved and what will it cost?
We are exclusively a manufacturer and don't transport units ourselves but we can provide contact details for contractors who will freight a unit for you. The cost will primarily depend on the size of the unit, the distance and site access considerations. Our units are easily moved with tilt tray truck and can be craned if required. With widths of less than 3.5m a load escort will not be required. For larger distances competitive rates can often be procured when a unit is shifted as a backload.
4. Can I move the portable unit if I change locations?
Yes, one of the primary advantages of a portable unit is its mobility. Ryebucks Portables' units are designed to be easily transported to different locations as often as needed. Smaller units are readily shifted on a standard tilt-tray truck while larger units may require a super-tilt.
5. Are the units pet-friendly?
Absolutely! Ryebucks Portables' units are pet-friendly. Heavy duty vinyl floors and colorbond internal walls mean your unit is easily to keep clean and will withstand plenty of use. The insulated environment ensures your furry friends will be as cozy and comfortable as you are.
6. Can I customize the interior layout?
Yes, Ryebucks Portables offers customization options, allowing you to tailor the interior layout to your specific needs, preferences and site requirements. In fact, very rarely do we do two portables the same, everybody's needs are different.
7. Do I Need Council Approval?
That will depend on your anticipated use, your location, and your specific council. Local government areas vary and have different priorities so you will need to contact your council and ask them. Ryebucks can supply a unit with a full Class 1a build for council approval. Whilst we don't deal with sites or regulatory bodies, we can suggest a building consultant who can help with these processes.